Royal guard is a group of monsters that are dedicated to defending the Underground, protecting Asgore, and searching for fallen humans.
Overview
Edit
Royal guard is supposed to protect everyone, but most of the time they just attack random monsters. Most members are sadists who don't hesitate to kill anybody anytime. The captain of Royal guard, Undyne, is most powerful and sadistic of them, but Papyrus is trying to reach her place. Every monster in Underground is afraid of the royal guards, yet they appreciate their work and that they are doing the best they can.
Known members
Edit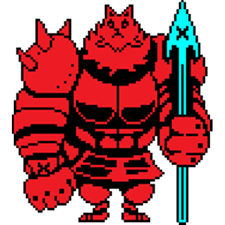 Ad blocker interference detected!
Wikia is a free-to-use site that makes money from advertising. We have a modified experience for viewers using ad blockers

Wikia is not accessible if you've made further modifications. Remove the custom ad blocker rule(s) and the page will load as expected.