PLEASE NOTE: THIS CHARACTER IS SPECULATIVE. ALL INFORMATION ABOUT THIS CHARACTER IS NOT CONFIRMED.
| | | |
| --- | --- | --- |
| " | There are two depictions of the Underfell Gaster, one being more like most Underfell characters having a dark and cruel personality with a darker appearance, and the other being his moral opposite, so I'm only showing you his actual opposite, but if you feel obligated to add his other depiction, I'm not going to stop you. | " |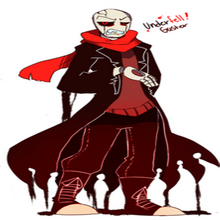 W.D Gaster was the former head scientist, it's unknown whether or not in the Underfell comics he's dead or was just kicked out for being soft.
Personality
Edit
Gaster, unlike his Undertale counterpart, does not follow but is there if they need him. He is a very quirkcharacter, being an optimist and is willing to help anybody, but he is extremely hyper-active and oblivious, making him obnoxious and sometimes getting in the way.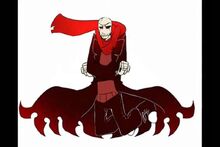 Gaster is a evil, dark, and cruel entity scattered across space and time. Like most Underfell characters, he has darker and more evil personality than his Undertale counterpart. Gaster was also the previous royal scientist, before Alphys took his place after the 'incident.'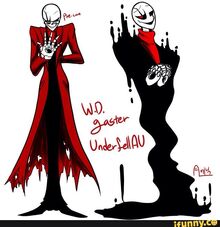 Appearance
Edit
Gaster looks no different from his counterpart, the only difference being his face is more melted and mangled slightly to match along with the rest of the game's theme
Relationships
Edit
Supposition about him
Edit
WARNING! This is nothing but speculation. DO NOT TAKE THIS AS TRUTH!
Gaster is probably the creator of Sans and Papyrus, explaining their connections. But it is presumed that once the new rule, "Kill or be killed", was added, Gaster's creations became very hostile towards him. It is unclear how he lost his job, but some possible reasons would be:
The same thing in Undertale happened in Underfell, resulting in him becoming forgotten forever.
He was kicked out of his job for being too soft.
He was murdered by Alphys, explaining why she got the job.
He just gave up and went into hiding, because he was sick and tired of all the nice people he once knew being so evil and corrupt, especially towards him.
He was murdered in a riot, because the rest of the underground thought he was too soft.
Ad blocker interference detected!
Wikia is a free-to-use site that makes money from advertising. We have a modified experience for viewers using ad blockers

Wikia is not accessible if you've made further modifications. Remove the custom ad blocker rule(s) and the page will load as expected.